Currently Reading
Fiction
Falcons on the Floor by Justin Sirois
A novel about two young Iraqi men trying to escape the first siege of Fallujah—and the, in fact, inescapable effects of war. Written in just stunningly lovely prose that belies the setting's chaos.

Publishing Genius, March 2012.
ISBN 9780983170648. 300pp.
Get it for only $5 this month!

Non-fiction
Waiting for the Barbarians: Essays from the Classics to Pop Culture by Daniel Mendelsohn
This collection of 24 of Mendelsohn's recent essays sparkles with humor and brilliance. If you haven't already been reading this critic's work, you absolutely should.

NYRB, October 2012.
ISBN 9781590176078. 432 pp.

Poetry
Intaglio by Ariana-Sophia Kartsonis
A few of Kartsonis's poems captivated me via the Internet, and I just began reading her first collection of delicate yet incisive images. Here's a brief bit from "Litote, Smoke Trees, Fireworks Over Water":
                              Just yesterday

wasn't it high noon? Wasn't vacancy
a motel's yes? The bedspread, the same blue

as our blue-faced sky freckled with starlings?
One face holds a skyful of lost balloons.

One night's a kimono with worlds repeated
in its pattern. I envy them: vanished

rings, pistils, roundels, palms, like I envy
geese for belonging to nothing but sky

and water.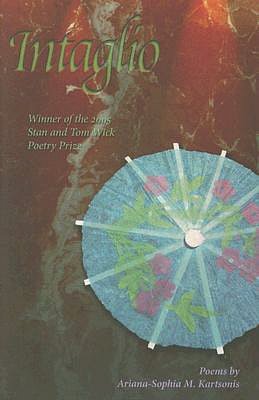 Kent State University Press, September 2006.
ISBN 9780873388917. 72 pp.